Woolly Boo is a family owned business lead by a mother-daughter team that began in 2009. This company was born through the idea of offering natural, chic and chemical-free bedding products for children. Before launching the business, Vahida and Selma (the mother-daughter team) ventured out to find these specific products and quickly realized there was a strong need in the marketplace for them and set out to do it all on their own. Together, they created this business including a distinct line of children's bedding that contains 100% organic wool and 100% natural cotton.
I reviewed the Toddler Pillow in Pretty in Pink Twill. These pillows are made from nearly two pounds of the cleanest wool available and come in two different sizes. You also have the option to choose a sham for the pillow in seven beautiful choices and if you have your own fabric, they will even custom design the sham to match your décor! The sham is also completely removable and washable, making it easy to maintain. This toddler pillows retails for $55.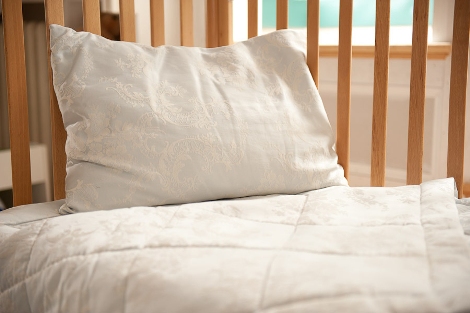 I was so thankful to be introduced to Woolly Boo at an event in NYC earlier this year because my daughter has had a difficult time sleeping some nights due in part to the fact that she sweats. I never knew that this product containing wool would actually keep her from sweating. As soon as the pillow arrived, I was so excited to "test it out" with my little girl. And now? She's sleeping like a champ! She no longer wakes up with her hair and face all sweaty and she is certainly much more rested. She loves her Woolly Boo. Just as the company's tagline states, "For a healthy and restful sleep…" that seriously couldn't be more true! If you are in search of durable, organic and well designed children's bedding, look no further than Woolly Boo.
When visiting the site, you will find the complete line of Products including Toddler Travel Pillows, Crib Bumper Pads, Crib Mattress Pads and even Toddler Bedding. The infant sleep sacks are also a Woolly Boo favorite! Be sure to follow Woolly Boo on Twitter and Facebook for the latest updates and product information from this company.
Theta Mom® abides by word of mouth marketing standards and believes in honesty of relationship, opinion and identity. Wooly Boo is a proud sponsor of Theta Mom and I was provided a toddler pillow to facilitate this review. However, all opinions expressed are purely my own and the content of this post was not influenced in any way.